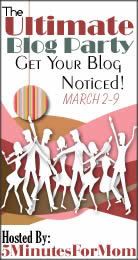 Before I start today's post, don't forget to get in on the Ultimate Blog Party hosted by
5 Minutes For Mom
this coming week March 2-9! Click on the button for details!! It'll be great!
First of all, thank you so much for your comments on

DC's

photography yesterday. He does do a great job. I sometimes wish he'd photograph people more often, but he definitely is an artist with a camera. I think I'll have to take Kristen's advice and make a calendar one of these days - maybe it'll be

everybody's

Christmas gift next year.

Hmmm

.
I have a problem that I need your help with. Kev is preparing Chapter 4 and it will probably be ready tomorrow. Here's the problem - tomorrow starts the big

bloggy

party hosted by 5 Minutes with Mom. This series we're doing doesn't exactly fit in with the theme (although, we are definitely celebrating what God has done). I don't want to wait another whole week to post his chapter and my response. But I am not sure anyone will come to visit us while the party's going on, and I don't think signing up for the party with this particular post is a great idea. What do you think?
Feisty and I had a great adventure the other afternoon while Care Bear was in school. We went to visit

Maizie

. I have taken both girls to see her in the past, but this time it was just Feisty and me.

Maizie

is in an assisted living facility. Let me tell you, if you want to light up the world a little bit, just take a cute kid or two to a place like that at lunch time. The looks and smiles on the faces of those residents just made my day. I must do it more often.
Maizie

and Joe began coming to our church late in life. They were a great couple. They celebrated at least their 75

th

anniversary before Joe went to heaven.

Maizie

lived in her house for a few more years, then had to have some help, so moved into this facility. It's nice, but there is definitely not enough room for all of the things she loves.
When we used to go visit them in their home on occasion, it would be such a hoot.

Maizie

is quite the conversationalist. Joe would have liked to get a word in and had great stories to tell about his life in Canada growing up.

Maizie

was British. I can't remember the exact story of how they got together, but they had some great memories. Joe would be all right as long as he was telling a story of his boyhood, but the minute it got to a memory they shared, she'd always say, "No, Joe, that's not the way it went," and head off into her own version. He was so gentle and kind - he'd just let her have the story and sit and listen with a smile on his sweet face. I know she misses Joe terribly.
Maizie

will be 100 on May 23. She's getting tired. A virius went through the place not long ago and she caught it. She hasn't sprung back as well as before, and her vision is not as good as it was. Until recently, she has been hand writing the stories of her life and giving them to family members. I asked her if they are being typed up so that everyone can have all of the stories. I think they should be published. With her memory and gift of gab, can you imagine what she could tell in 100 years of memories??
I would love to sponsor a card shower for

Maizie

with my blog friends. What do you think? If you're interested, I'll e-mail you her address as the time gets closer. I wish I'd had my camera with me as Feisty rode on her lap and I pushed them back to

Maizie's

room from the cafeteria.
I have learned not to let impressions go. When I think of her, I need to go visit

Maizie

, because the regret I'll feel if I don't do it before she goes to heaven to join up with her Joe would be overwhelming. I try to listen to that little inner voice and send a card, e-mail, call when I get that nudge from the Lord.
As I've mentioned before, I spend quite a bit of time in my minivan with the

kiddoes

, and we always listen to good Sunday School songs as we drive down the street. Yesterday it was Veggie Tales. The trio singing ibehind me as we drive down the street just blesses my soul! At the end of one of the songs yesterday, Care Bear said, "I just love God so much!" Oh, my, what a privilege to be in their lives and watch their little spirits tune in with His.
A couple of days ago just after I picked Anakin up from school, one of the other minivan drivers pulled up beside me and told me I had a totally flat tire. I got out of the traffic pattern, called my Dad, the faithful fixer (they live only a few blocks away, thank the Lord), and he came over to fill it enough for me to get home, and followed me there to be sure. Anakin's biggest concern was, "Are we going to miss Arthur?" That is the big treat the minute we get home from school - watching Arthur. I love his priorities! BTW. the tire has a nail AND a screw in it! I attract nails as if there were a magnet inside my tires!
I'm on my way to get a haircut. Feisty will be watching me get this done instead of the other way around. Remember the haircut thing of a few weeks ago? Feisty said, "Maybe Care Bear can cut your hair!" I love it!
I guess I'd better get busy doing that for which I get paid not enough! Let me know what you think of my two requests.